4 Tips for a Food and Beverage Product Sampling Event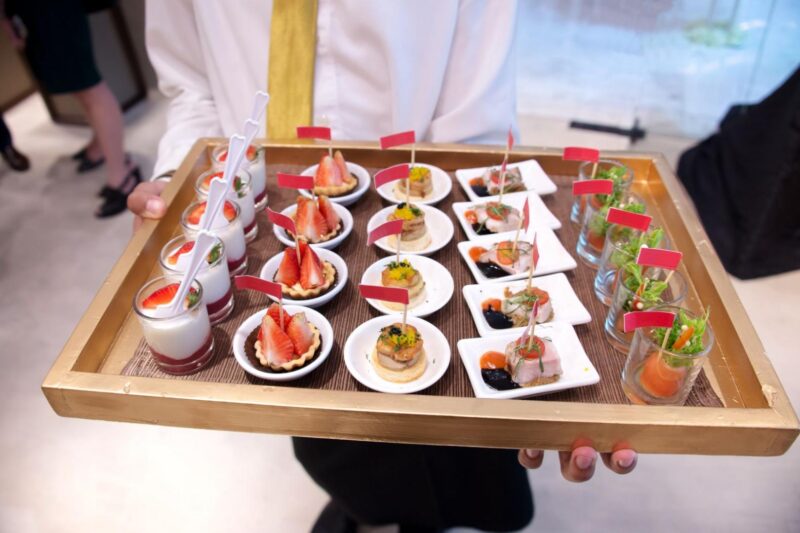 A sampling event is a fun way to introduce consumers to your products. Whether you're a new business or have a new item, boost sales with these four tips for in-store food and beverage product sampling events.
Choose the Right Location
Choose the right venue to get your products in front of a receptive audience. Think about the connection between the venue and your product. Setting up a booth in a retail shop is a natural fit if it sells your product. But even if the retail business doesn't sell your food or beverages, if it's a popular place for consumers to try samples, it can also be an excellent place for your products.
Samples can introduce your product to people unfamiliar with your business. Consider setting up a promotional booth at festivals and trade shows. Giving free samples is one of the best ways to attract people to your booth.
Another tip for a successful food and beverage product sampling event is to choose products that pair well with the time of day or season. When you conscientiously time your product, you make it more enticing for visitors. Even on a laid-back morning, java lovers will find it hard to resist free samples of coffee.
Lure consumers to your booth with seasonal products. People will appreciate the light and fresh food and drink samples in warmer months, and you can showcase refreshing goods. In cooler months, bring out your denser and richer products.
Design an Eye-Catching Display
Whether you're the only business promoting your goods at the grocery store or competing with other vendors at a busy festival, decorate your display artfully. The stylish accessories that you use should reinforce your brand. If you sell homestyle products, you can create an evocative display with a gingham tablecloth and rustic farmhouse-style accessories.
Your products should look their best, too. You not only want the display to entice people to try the samples; you also want to create a favorable impression of your brand. Offer generously sized samples; as time goes on, remember to keep topping up the table with fresh samples.
Communicate With Clear Signage and Packaging
The signs you post help people decide if it's worth visiting your stand. Depending on the event, put a sign on the front of the sample table stating your business name and products. You might write artistically on an A-frame sidewalk sign. Whatever the look, consumers should be able to glance at the sign to know what you're offering.
Print an attractive graphic design on your sample's packaging so that as customers walk around, other people see the unique wrapping and get more interested in your products. If you sell beverages, paper drink cups are better than reusable plastic cups because they're convenient for customer use. They're lightweight enough to carry around at an event so that other attendees will get plenty of exposure to the branded message, and they also degrade faster in the landfill than different cup types.
Choose the right location and offer samples that match consumers' cravings based on the time of day or seasonality. Create an eye-catching display that invites consumers to check out your offerings. Finally, use clear signage and packaging to help funnel people your way.